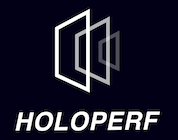 Project type :
Showcase website
Holoperf offers holographic projection solutions by providing companies with different sizes of holographic fans that broadcast 3D content. This new communication tool is more and more used by brands to promote its products in an original way during events, shows, showrooms, public places or even in points of sale. We created the website from a mock-up whose aim was to present the characteristics and functionalities of holographic fans in a clear, simple way on a sober and innovative background. The website represent well our client, Holoperf, and show the hologram technology.
Project management
Web designer coordination
Website development with web developers
Development based on our own CMS system
Platform hosting and maintenance
Front and back project management
Contact us to request a quote or talk about your project !
Location
Calle Torres i Amat 21, 1a planta, 08001 Barcelona
Have a project in mind?
Let's have a chat!